Multi-orifice flat spray air nozzles (Disassemblable) HF series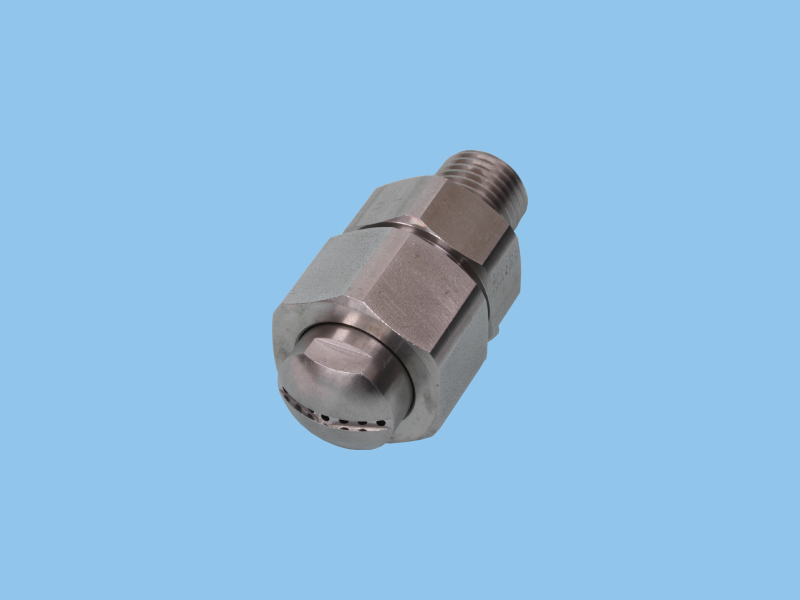 | | | | | | |
| --- | --- | --- | --- | --- | --- |
| Spray pattern | Flat | Pipe conn. size | R1/4 or R3/8 | Standard pressure | - |
| Spray angle | - | Spray capacity | - | Supply air type | Compressed air |
Features
• The compact, multi-orifice design achieves a flat blow with a large coverage area.
• Available in three models: HF 7-012 (having 7 orifices), HF 7-014 (14 orifices), and HF 19-012 (19 orifices).
• Low noise level. Noise level reduced by more than 10 dB (A) compared to a one-hole air nozzle.
• Nozzle can be disassembled into three parts for easy cleaning of the orifices.

Applications
Blow-off drying: Blow-off for engine block
Rejection: Rejection of inferior products
Cooling: Pinpoint cooling for molded plastic
Industries in which this nozzle is used
• Steelmaking
• Machinery
• Electronics
• Paper & Pulp
• Printing
• Food
• Automotives
Product specifications
Outer dimensions

See the catalog below for more details.

Related products

Allows adjustment of spray direction over a range of 50 degrees as desired. [Metal type]• Withstand…

• Able to rotate 360° to adjust blow direction. Desired position can be locked in place with bolt.•…