Low Flow Rate Fine Fog Nozzles/ Flat Spray BIMV series nozzles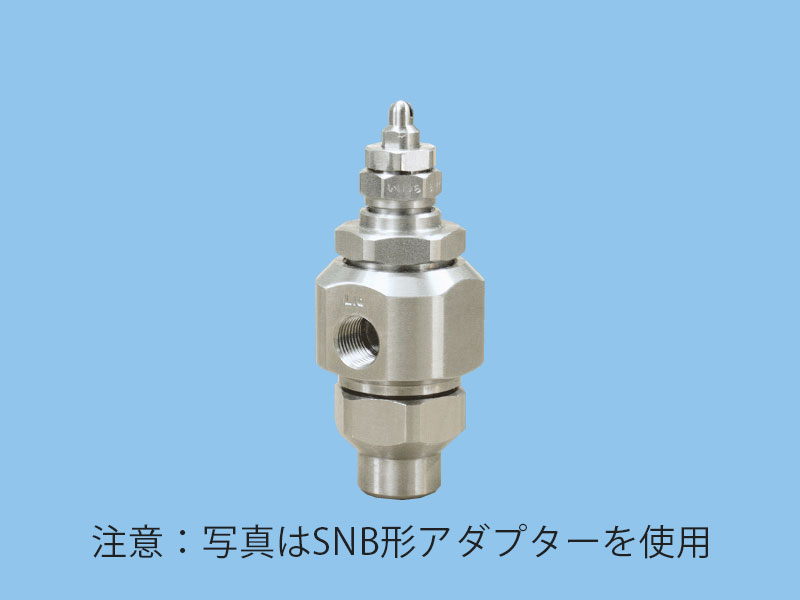 Thread standard
-
Pipe conn. size
-
Standard pressure
-
Spray angle
45°, 80°, or 110° (*1)
Spray capacity
1.0–107 ℓ/hr
Supply air type
Compressed air
Liquid feeding system
Liquid pressure
Mean droplet diameter
20–100 μm
Air consumption
7–245 ℓ/min, Normal
Air pressure
0.2–0.4 MPa
Free passage diameter
0.2–1.6 mm (*2)
Features
• Flat spray pneumatic nozzle producing fine atomization with a mean droplet diameter of 100 μm or less (*3).
• Features large turn-down ratio under liquid pressures of 0.1–0.3 MPa.
• Produces two different spray distributions: uniform spray distribution throughout spray pattern area (when spraying at a low air-water ratio), or a mountain-shaped distribution having gradually tapered edges (at a high air-water ratio).
• Spray angle of 110゚, 80゚, or 45゚.

*1) Spray angle measured at compressed air pressure of 0.3 MPa and liquid pressure of 0.1 MPa.
*2) Free passage diameter of nozzle orifice.
*3) Measured by Laser Doppler Method.
Applications
Spraying: Mold release agent, lubricant, deodorant (trash pit, refuse collector, inlet conduit), oil, surface treatment agent, rust preventive, honey, insecticide, aqueous urea, etc.
Cooling: Dies, gas, glass, steel plates, steel pieces, moldings, automobile bodies, plastic products, etc.
Moisture control: Paper, gas, ceramics, concrete, etc.
Cleaning: Printed circuit boards, glass tubes, etc.
Others: Dust suppression, catalyst denitration, etc.

[Steelmaking industry]
Raw material process: Dust suppression at the conveyor line, Flue gas denitration reducing agent
Steelmaking process: Cooling refractories at maintenance of ladle and tundish, Cooling electric furnace and electrode
Rolling mill process: Cooling coil
Surface finish process: Minimized spangle treatment at the continuous galvazing line, Cooling coating line

Industries in which this nozzle is used
• Electronics
• Paper & pulp
• Printing
• Food
Product specifications
Outer dimensions

See the catalog below for more details.

Related products

• Compact version of BIM series producing fine atomization. Space-saving design.• Able to provide t…

• Flat spray pneumatic nozzle producing fine atomization with a mean droplet diameter of 30μm or le…