Full cone spray/ Seven-head type (Extremely fine atomization) 7KB series nozzles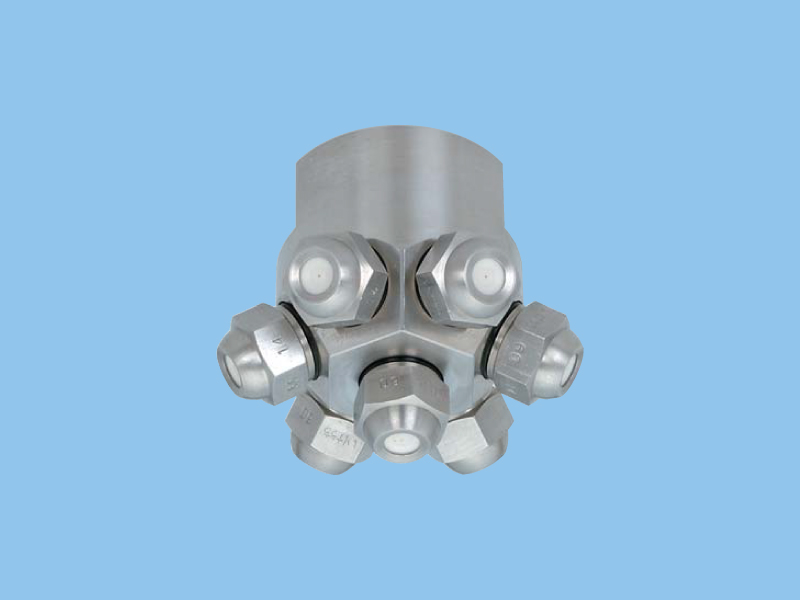 Pipe conn. size
3/4F
Spray angle
180゚
Mean droplet diameter
45–210 μm
Strainer
Included or available
Standard pressure
0.7 MPa
Spray capacity
0.23–10.9 ℓ/min
Air consumption
-
Free passage diameter
0.15–0.60 mm
Features
• Full cone spray pattern with a round superimposed impact area.
• 7 pcs. of KB series hollow cone spray nozzles are screwed into a very compact header.
• Capable of generating a large volume of fine atomization.
• The whirl chamber is formed by a ceramic orifice and closer, which provides excellent wear resistance.
Applications
Gas cooling, Cleaning, Moisture control, Humidification, Dust suppression
Industries in which this nozzle is used
Pollution control
Product specifications
Structure
• Comprises 7 pcs. of KB series hollow cone spray nozzles (spray angle 60゚ ) and a header.
KB series nozzles are screwed into a header.
• Spray orifice and closer are made of ceramics.
• Each KB series nozzle is equipped with built-in strainer. Each part can be disassembled.
Material
• Spray orifice & closer: ceramic
• Metal parts: S303 or B (brass)
• Optional material: S316
Mass

| Material | Mass(g) |
| --- | --- |
| S303 | 370 |
| B (brass) | 390 |

Outer dimensions

• Please refer to our catalog for the spray dimension (D) shown above.
• Appearance and dimensions may differ depending on materials and nozzle codes. Inquire with us for details.
People who viewed this Item also viewed the Items below.
• Full cone spray pattern with a ro…

• A plastic adaptor that can attach…